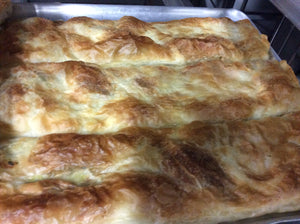 SPANAKOPITA and TIROPITA - Box of 4 strips - 8 Serves
Regular price $36.00 Sale
2 Strips of Spanakopita and 2 Tiropita
Our Spanakopita and Tiropita is made with a hand stretched home made fillo pastry with a traditional Macedonian Greek Style.
The Spanakopita and Tiropita box comes in a family size pizza box with 4 long Rectangle pieces that serves 2 people each. A total of 8 lunch serves and great for cutting into smaller pieces and entertaining.
Dannys Spanakopita and Tiropita are made fresh everyday and can be refrigerated for 4 days or Frozen for 6 months.
Our Pitta comes cooked and ready to eat and can be reheated for 8-10min in a 180 degree oven.